World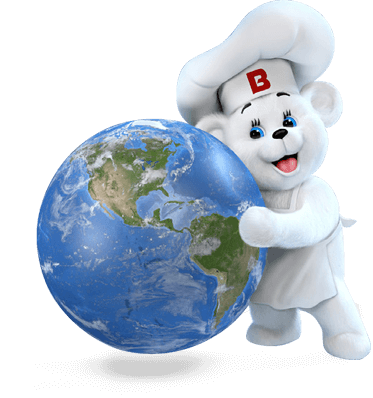 United States of America
By 1984 we began to export baked goods to the United States and in 1998 we made our first U.S. acquisition when purchasing the Mrs Baird's Bakeries Company in Texas.
Mexico
We were born in Mexico in 1943. Now we are the leading baking company in the country.
Guatemala
In 1990 we entered Guatemala and established Bimbo® Central America.
El Salvador
In the 90s we were established with the creation of Bimbo® Central America.
Nicaragua
In the 90s we entered Nicaragua which became a part of Bimbo® Central America.
Costa Rica
In the 1990s we entered Costa Rica which became a part of Bimbo® Central America.
Honduras
We began operations in 1994 then went to market the year of 1995 in San Pedro Sula, Tegucigalpa and La Ceiba.
Venezuela
In 1990 we bought Holsum Bakery in Venezuela, one of its largest baking companies, and started earning the affection of the venezuelans
Argentina
We arrived in 1991 with an investment of 12 million dollars to build a bread plant.
Peru
Bimbo® has been in Peru since 1998 and is enjoyed by many.
Colombia
In 1996 we built a plant in Tenjo, Cundinamarca and began with 225 trucks in Bogota.
Chile
In 1995 we joined Alesa S.A. Baking Company in Chile and made it part of Group Bimbo®.
Uruguay
In 2006 we reached Uruguay and acquired the Sorchantes Company then added Pan Catalan in 2007 incorporating more people and new products.
Paraguay
In 2008 we acquired a local plant in Paraguay and started producing our specialties.
Ecuador
In 2014 we strengthened our presence in Latin America by going to market in Ecuador.
Brazil
In 2001 we entered Brazil, winning their hearts with our baked goods while becoming the leading baking company in Latin America.
Canada
In 2014 we acquired Saputo Bakery Inc. in Canada which made us the largest baking company in the world.
China
In 2006 Grupo Bimbo® broke barriers and established a presence in China.
Portugal
In 2011 Grupo Bimbo® establishes Bimbo® Iberia after acquiring Bimbo® Portugal then integrates the Portugal business.
Spain
In 2011 Grupo Bimbo® acquired Bimbo® Spain then integrated this business into Bimbo® Iberia.